We have a long-standing history assisting commercial establishments, industry professionals and government with their wastewater challenges.


High strength microbial formulations for bioaugmentation and bioremediation (leach field system recovery)
Top quality effluent filters
Cutting edge wastewater treatment system solutions
Simple, effective and economical.

Proven Microbial Technology for:
Bioremediation – Tile Bed Flow Recovery
System Seeding & Maintenance
Grease Trap Treatment
High Strength Waste Water Treatment
Sewage Lagoon Applications
Odour Control

Reverse absorption system organic loading and biomat problems by enhancing organic degradation rates to achieve final biological flow recovery.

Bioremediation technology provides a natural recovery process to achieve flow recovery, combined with long-term system performance.


For onsite sewage systems, our concentrated liquid culture consortium is made of 12 select vegetative microorganisms with a specification of 500 million microorganisms/mL.

Restores biological activity, reduces surface and bottom solids.
Eliminates odours.
Lowers BOD & TSS & FOG.


Sold by septic system installers and waste haulers to home and cottagers. This complete bacteriological formula eliminates odours, reduces solids build-up and contains no toxic chemicals. Septic System & Drain Treatment digests waste in the septic tank helping to prevent solids from entering the tile field.


The ultimate leach field protection.

This effluent filter keeps your leach fields safe with twice the filtration area of most residential filters. The entire filter is in the effluent, making the filter 100% effective. The best feature is the sleeve as it remains in the outlet tee when the main filter is removed for servicing. This guarantees nothing larger than 1/16″ reaches the leach field.
Easy to install or retrofit; Fits inside any 4″ sanitary tee.
Allows only the clearest effluent to leave the tank.
EcoEthic Inc. is Canada's agent for BioGill
BioGill is an above ground, non-submerged bioreactor that deliver superior performance in wastewater treatment.

Microorganisms are Nature's ultimate decomposers and recyclers, growing and consuming best in a high nutrient and high oxygen environment. BioGill provide the perfect oxygen rich environment for microorganisms to thrive.

BioGill technology is helping resorts, tourist parks and industry achieve regulated discharge standards and eliminating sewer use surcharges.

BioGill is ideal for treating sewage, grey water, and wastewater from food and beverage processing.

BioGill is breakthrough technology in the biological treatment of wastewater.

Key advantages
lower cost
ease of operation
modular, scalable technology
does not require complex pumping systems
no odour
superior bio-oxidation of wastewater
low in energy consumption and chemical usage
This leading edge technology is different from existing wastewater treatment processes in that it does not rely on high-energy systems to aerate the wastewater.

Compared with other bioreactors and other aerobic wastewater treatment processes, BioGill offers more efficient aeration of organic material in the waste stream and very efficient biomass retention. The biochemical oxygen demand (BOD) of the waste stream (or nutrient-containing liquid) is reduced at a much faster and more efficient rate.

How BioGill works
Wastewater is transferred to the treatment tank. A recirculation pump then takes wastewater to the top of the BioGill unit. The wastewater is then dispersed across the gill sets. The nature of the gill sets allows for immediate dispersion throughout the system. Gravity moves the waste stream down through the gills and back into the treatment tank. The gill sets are comprised of Nano-Ceramic Membranes™. Along the gill sets highly active and intense biomass consume the nutrients from the waste stream during each pass of the wastewater.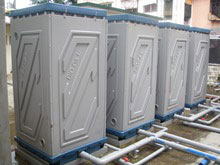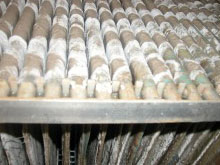 The typical treatment cycle for the waste stream involves multiple passes of the liquid over the BioGill. Biochemical Oxygen Demand (BOD) removal during a treatment cycle can be between 90 - 99% depending on the makeup of the waste stream and operating temperature.

BioGill is an award winning nano-ceramic bioreactor technology with a wide range of applications, in particular, superior wastewater treatment and recycling of treated water.
For more information please email or contact us at: 1-888-436-3996